If you suddenly see a "Error Code 17" when you try to watch the live view of your HikVision CCTV Camera / IP Camera system, this article is to explain what it is and how to resolve it
What is Error Code 17 for HikVision CCTV Camera / IP Camera?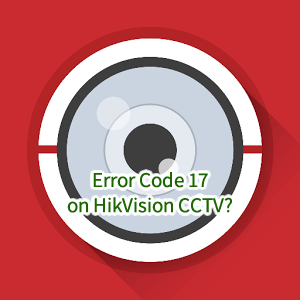 Error code 17 happened when you are trying to connect the HikVision CCTV Camera / IP Camera / DVR / NVR using mobile app iVMS-4500, or computer software iVMS-4200. Most of the time, it happens suddenly. Configuration remains unchanged. You suddenly receive this error code 17.
Based on HikVision's official SDK explanation, Error Code 17 means:
NET_DVR_PARAMETER_ERROR: Parameter error. Input or output parameter in the SDK API is NULL.
Martian Language, isn't it? Here are the explanation and solution to it. Read on…
First of all, don't panic. In general, this "Error Code 17" only means the internet connection with your CCTV system is having an issue. The client, which is your mobile phone, or computer, couldn't communicate with the server, which is the IP Camera, or DVR, or NVR, due to the parameter error in the configuration. The recording is still working fine. You won't lose any important video records because of this error code.
So what has caused the error?
In a little detail, "Error Code 17" often means the IP address of your CCTV devices (IP Camera, DVR, NVR) can't be resolved correctly, for whatever possible reasons. We have provided a premium DDNS service which is used to capture your home router's real-time IP address. If there is any issue (e.g router issue, ISP's service failure, etc) disrupting the communication between the DDNS resolving and the IP refreshing from your router, you will see this error code 17.
To solve this problem, you need to instruct your CCTV system to resend your current IP address. Usually what you need to do is to restart your CCTV Camera DVR / NVR / IP Camera (shutdown / turn the power off, and turn it back on). The CCTV system will refresh your IP address, which should usually resolve the issue.
If you have restarted your CCTV DVR / NVR / IP Camera a few times, but still seeing "error code 17", please follow the instructions here to get our remote support.
Want to upgrade your CCTV system to a better resolution type of camera? Consider to install IP CCTV Camera or HD-TVI CCTV Camera for your home or office? Browse various types of IP Camera & HD-TVI CCTV Camera packages!