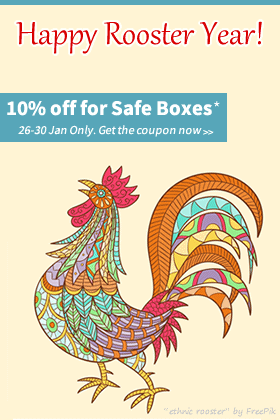 First of all, Happy Chinese New Year from team of SafeTrolley.com! Wish everybody good health, good luck and much happiness throughout the year. Wish everybody a prosperous Rooster Year!
We, SafeTrolley, are going to have the Chinese New Year holiday from 27 to 30 Jan 2017. During this period, no delivery or installation will be arranged.
Installation of CCTV cameras, IP cameras, office door access control system, EM locks, alarm system, intercom system, etc will start from 31 Jan 2017; the delivery of the safe box will start from 1 Feb 2017 onward. The installation of the digital door locks will start from 6 Feb 2016 onward. All the orders received during Chinese New Year holiday will be processed on 31 Jan 2017.
You are welcome to send us your inquiries during the holiday period. We will reply to you ASAP when our office opens on 31 Jan. Appreciate your understanding!
As for support matters, if you experience any issues for CCTV camera, IP Cameras, NVR, DVR, Door Access Control System, etc, please also send us emails. Our support team will check emails (but may not be very frequent). So please expect some delay in response. But rest assure that we will take care of your issues as early as possible from 31 Jan.
We know that we won't be around if you have any questions before purchasing a product, especially safe boxes. To compensate it, you will be given 10% discount for the safe boxes (brands included are Yale, Nika, SentrySafe, Diplomat is not included) when you purchase online and make payment by credit card or Paypal. The coupon code is "goldenrooster". Validity period is from 26-30 Jan 2017 (30 Jan inclusive). Free delivery will still be offered.
If you don't know how to use coupon code, here is the instruction page on how to use it
Again, we sincerely wish you a prosperous Rooster Year! GONG XI FA CAI!