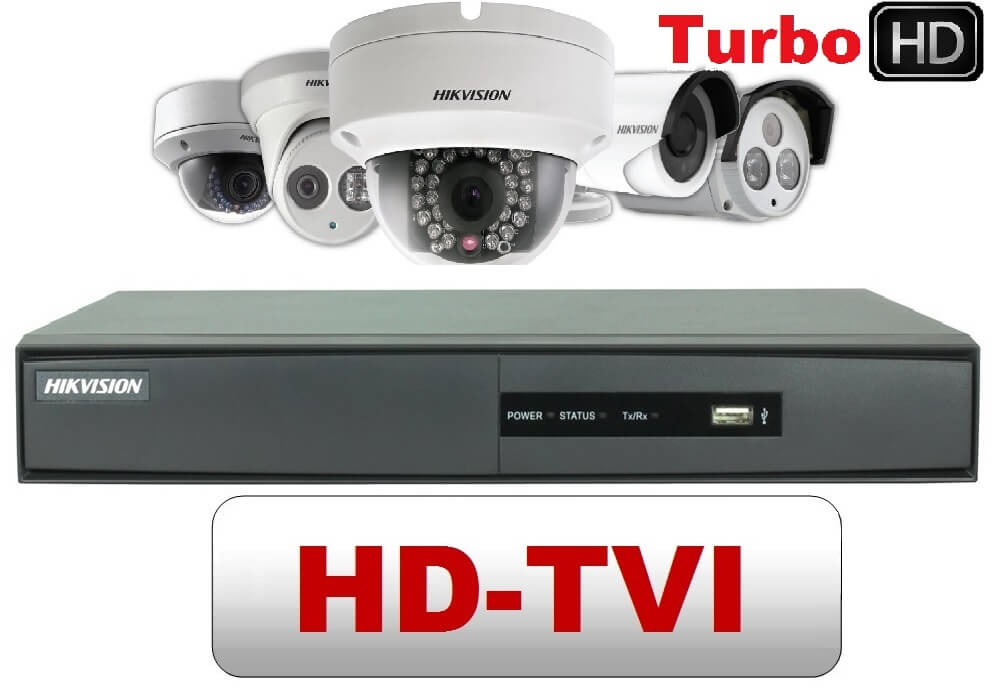 Just like many other technologies, when it comes to surveillance CCTV Cameras and remote monitoring with the help of cameras, there are industry-wide standards and preferences as well as a few competing brands aiming for market dominance.
So far, there's a few different kinds of cameras but only two are worth mentioning at the moment, IP Cameras and HD-TVI Cameras, even though other cameras are able to perform their task as advertised, any new buyer is only going to look towards these two.
This is because storage capacity is no longer an issue due to the reduction in prices of storage devices in general, higher quality is preferable and companies are making the switch over to HD surveillance.
IP Cameras and HD-TVI Cameras
The industry as a whole is making the switch to IP Cameras for several reasons, they're the latest and the most advanced when it comes to remote monitoring whereas HD-TVI Cameras on the other hand require quite a lot of time and hard work before they're up and running.
So let's take a look at some of the interesting contrasts between these two.
Local setup
When it comes to setting up these cameras and get them working, the contrast between both IP Cameras and HD-TVI Cameras shows up. All that IP Cameras require to fully function is that your NVR and camera be on the same network, letting them communicate with each other.
On the other hand, HD-TVI cameras require extensive electrical work along with the necessity of connecting your cameras to the DVR directly. Making remote monitoring relatively harder to set up.
Power requirements
In order to supply power to HD-TVI cameras, you'll have to use separate electrical wires whereas IP cameras don't need any additional wiring, a single cable connecting the IP Camera to the NVR (Network Video Recorder)is able to supply the power as well as transmit the footage from the camera.
For IP Camera, this same cable is also able to carry audio channels in both directions if required.
Backwards compatibility
Both HD-TVI Cameras and standard analog cameras use a DVR (Digital Video Recorder) for recording purposes with the major difference showing in terms of footage quality, this makes it possible to use analog cameras with a DVR built for HD-TVI Cameras, of course the quality will still be limited to what the camera is capable of capturing.
Similarly, analog CCTV Camera DVRs are also capable of recording through HD-TVI Cameras, limiting the quality to the DVR's capabilities. This lets businesses upgrade to HD-TVI wherever necessary, gradually, instead of having to replace everything at the same time, saving resources to be spent on more important tasks.
Image Quality
At the end of the day, IP Cameras are able to provide you with the highest quality in terms of surveillance while also giving you the ability to compress the captured footage so it can be stored or transferred over a network connection with ease.
HD-TVI Cameras still offer you a much better quality compared to Analog (720p, 1080p of HD-TVI vs. 960H of Analog), making them an affordable upgrade for businesses that are still running analog cameras.
Remote access
Both IP Cameras and HD-TVI Cameras are capable of working remotely in a similar fashion. The only difference between these in terms of remote access is that IP Cameras can be directly connected to the internet for remote access.
Another method of transmitting footage to a remote location is by first connecting an IP Camera to the NVR, which then connects to the remote location through the internet.
HD-TVI Cameras on the other hand can't be directly connected to the internet and need to first communicate with the DVR and then the DVR itself is connects to the internet.
Analytic software and other benefits
Most analytic software such as speed cameras that capture license plates, facial recognition software or cameras that gather traffic data rely on IP Cameras.
Another benefit of using IP Cameras involves the fact these cameras can be accessed from anywhere across the world, provided that you have the permission and credentials to do so. This also lets you access the pan, tilt and zoom controls, which most IP Cameras have.
This also leads to a possible disadvantages, where if you're using the internet (or any public network), your video feed has the possibility of being tapped into, reducing privacy and security. However, switching to a private network or an encrypted VPN solves this as well.
Conclusions on IP Camera and HD-TVI CCTV Camera
At the end of the day, IP Cameras are definitely the best on the market and HD-TVI is a close second when it comes to image quality.
In terms of cost however, IP Cameras are more expensive in the short run but as they require relatively low maintenance, the only reason not to choose them is if you're short on budget and would rather upgrade from Standard Analog on a step-by-step basis, making use of HD-TVI's backwards compatibility feature.
Want to install IP CCTV Camera or HD-TVI CCTV Camera for your home or office? Browse various types of IP Camera & HD-TVI CCTV Camera packages!