Description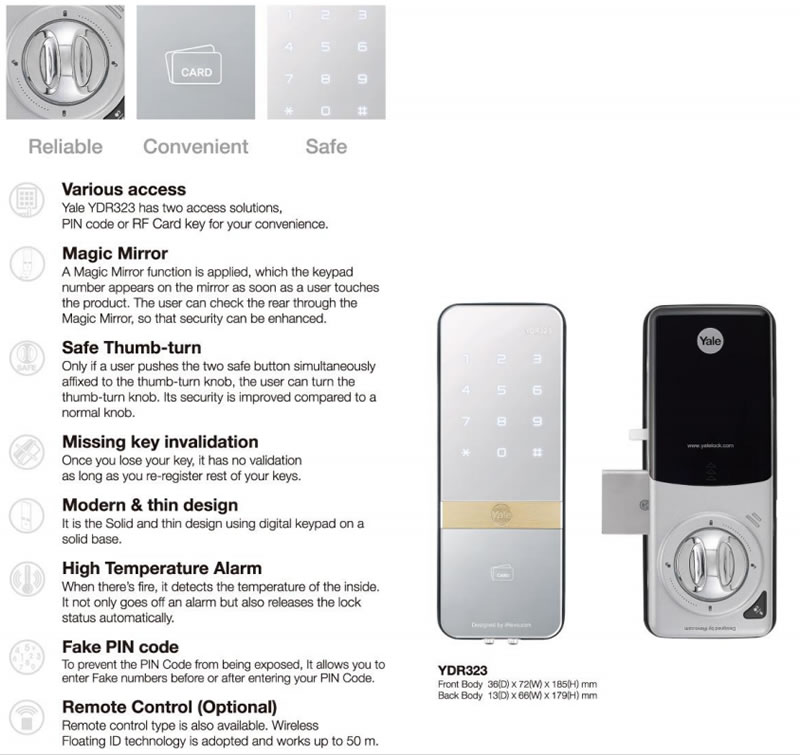 The Yale Digital Door Lock Collection offers Smarter Keyless Access Solutions for residential and commercial applications.
Specifications:
»Motorized Rim Lock
»Backset: 70mm to 90mm
»Door Thickness: 35 to 45mm
»Using 4 x AA batteries
»Operation Temperature: -15 to +55C
Features:
»PIN Code: 4 -12 digits
»Fake PIN code to prevent code exposure
»Promixity Cards: up to 20 users
»Optional remote control
»Elegant mirror style touch pad
Technical Details:
»Pin Code: 4-12 digits
»Color: Mirror Finish
»Front body: 36(D) x 72(W) x 185(H)(mm)
»Back body: 13(D) x 66(W) x 179(H)(mm)
Warranty: 2 Years Product Warranty with the First Year Service Warranty from the Date of Delivery and Installation.
*10 Free access cards or key tags (or mixed, 10 pcs in total) will be provided by SafeTrolley.com (Owned & Managed by Wise Group Pte. Ltd.). The free access cards / key tags will be mailed out 5 working days after installation or payment whichever is later, upon email or phone request. The design and appearance of the free access cards / key tags are different from the original ones that come with the digital lock package.