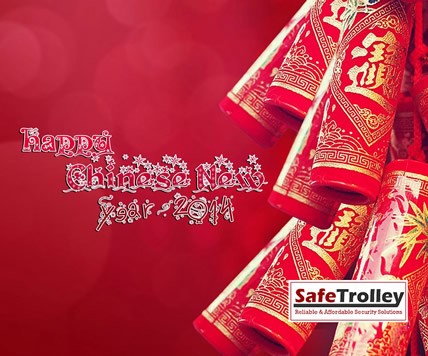 Dear customers,
Happy Horse Year!
Snake year is coming to the end, and we are welcoming the gracious horse now. All of our teams at www.safetrolley.com, would like to wish everybody a prosperous Chinese New Year: Wish everybody all Happiness, Prosperity, Longevity!
Please also kindly pay attention to our holiday arrangement:
– We will close from 30 Jan 2014 to 3 Feb 2014
– Business will resume from 4 Feb 2014
If you have any sale/support inquiries, please feel free to contact us using the contact us form online: https://www.safetrolley.com/contact/. We will check our email intermittently, and our reply might be delayed. But we will definitely be in touch to attend to all the inquiries. Your understanding is much appreciated!
Well, let's meet and talk again in 2014 horse year!
Sincerely,
Support Team of www.safetrolley.com